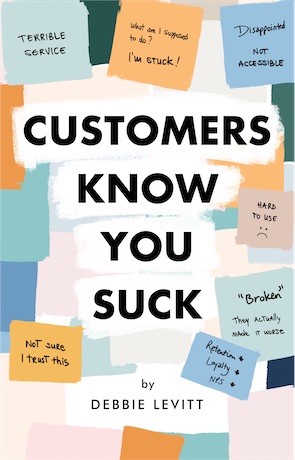 Customers Know You Suck
Actionable CX Strategies to Better Understand, Attract, and Retain Customers
In its first week on Amazon, it was the
#1 New Release
in Amazon's Business Decision-Making, Strategic Business Planning, Consumer Behavior, and Customer Relations categories.
It reached #15,913 on all of Amazon; with over 32 million books on Amazon, that puts it in the top 0.05%.
It has stayed in and around the top 100 books in each of the above categories for over two months.
It hit #7 in Industrial and Product Design, #24 in Customer Relations, and #25 in Marketing and Consumer Behavior, often behind timeless classics like "The Design of Everyday Things."
Customers Know You Suck is the how-to manual for customer-centric product-market fit. Its highly actionable models, maps, and processes empower everyone to improve the Customer Experience (CX). Learn how to investigate, diagnose, and act on what's blocking teams. Gather the evidence and data that better inform decisions, leading to increased satisfaction, conversion, and loyalty. Use our governance model for implementing and monitoring the progress, success, and failure of internal process changes and experiments.
We've all been in that meeting: something we thought users would want or do didn't happen as expected. How did we get that wrong and how do we keep that from happening again? Too often, product and service decisions are not guided by customer intelligence data. Where we lack knowledge, we work from guesses and assumptions, introducing or increasing risk.
Customers expect high quality and value from every interaction with your company. People notice when we don't meet their quality standards. Our reviews, stock price, support tickets, and customer attrition clearly show that what we thought was "good enough" isn't. If you lose potential or current customers in one channel, you've probably lost them in every channel.
But transforming toward customer-centricity strengthens customer relationships and increases revenue. Save money, reduce risk, work more efficiently, and improve culture while increasing customer satisfaction and loyalty.
"Transforming Toward Customer-Centricity" is the live interactive workshop version of some of the key points and exercises in the book. https://deltacx.link/ttcc-training
Thanks to the experts interviewed in the book:
Managers, leaders, and execs
Strategists and analysts
Workers at all levels, though the book assumes you have had at least your first tech or corporate job.
Product, Marketing, Support, Engineering, Data, CX, UX, and everybody else.
Formats
From Amazon: Kindle, Paperback, Hardcover, Large Print Paperback (15-pt type).
From this website: EPUB and PDF
From Audible: Audiobook
Related Training
Full-day workshop, corporate training, conference keynote or presentation.
"What a gem! Customers Know You Suck, a very practical how-to manual on how to improve the Customer Experience (CX) in small and large organizations, effectively. No theory, just a lot of actionable, useful advice. Written by the wonderful Debbie Levitt."
"I can't thank you enough. I've been trying to push a UX Practice at my company for so many years and your book has helped me convince 2 people at my company to work on this together with me. They bought your book, read it, and are attending the workshop next week.
I can't believe this is happening. We're all excited and motivated. It's started a little mini-revolution here and I can't wait."
"Every chapter in Customers Know You Suck has something that makes me think, "If only that annoying person in my company understood this." The book contains a lot of principles and practical advice, and can be easily skimmed if you need to go deeper into one of the topics. It's a manual, and I mean this in a very positive way: it's deep, it's comprehensive, and it's chunked in a way that allows me to find the answer to a specific question the moment I need it. There are a lot of short paragraphs with precise titles, boxes with specific examples, and separate chapters for interviews. It's super helpful, and easy to find topics I want to explore."
978-0974696003 Kindle
978-0974696041 EPUB
978-0974696010 Paperback
978-0974696058 Large Print Paperback
978-0974696034 Hardcover with full color internal print